Neuro Attachment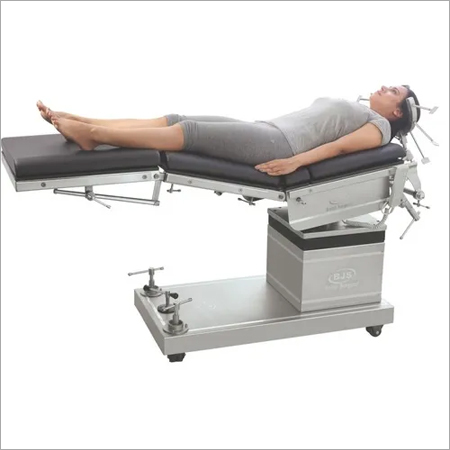 Neuro Attachment
Product Description
Neuro Attachment offered, is created specifically for orthopedic surgeries. It is designed specifically for the use of intraoperative X-ray photos and image intensifiers. A pelvic support plate is placed on top of the frame and is made with an asymmetrical structure. It's easily collapsible and just takes up a minimal amount of storage space. Neuro Attachment with traction shoe with metallic sole give a strong grip at the ankle joint, even for high traction forces. The patient's legs are supported by padded orthopedic knee crutches.
Neuro Attachment
Extremely durable and rigid construction from aluminium alloy.
Image fixing system with pins and completely adjustable skull clumps
Adjustment mechanism from 4 different points.
Easily mountable horse shoe head rest accessories.
Technical Specification

Length of Table 1910 mm
Width of Table Top 522 mm
Height (Min-Max.) : 750-1000 mm
Trendelenburg (Rev.) : 25
Lateral Tilt 20
Back Section 60
Head Section 60
Leg Section 0-90
Floor Locking System : Manual